NOTES FROM A GALLERY 2
WALLS & MASKS
After the first night of Band of Holy Joy's action at Gallery 46 I was really looking forward to whatever came next. I'm glad to say I wasn't disappointed. Yesterday I'd been pretty near overwhelmed by the intense barrage of imagery, words, emotions and sounds that it took a while to take it all in, mind locked down by all those identical days. This didn't diminish the impact in any way though.
As James Stephen Finn says early on, the Berlin Wall provides a pretty sound metaphor for where we're at now, divided and separated. Walls and masks is the theme – walls can protect as well as separate, and masks don't have to be criminal or surgical – they can be an important part of the jester/joker function, where awkward truths can be safely expressed.
As if things weren't strange enough anyway. Politics degenerated into a dumbed down cartoon strip with the blond cretins either side of the Atlantic and a recipe for a new civil war in Brexit. On my local Facebook page a mild question over the etiquette of mask wearing soon turns into an exchange of abuse and insults, as the group rapidly divides along traditional age and class fault lines. There's no rational approach that'll make sense of all that crap, and that's where the artists come into their own…
Host Johny Brown starts things off MC style, as our eyes pick out a couple of new stage props, a bird cage (cages are just another type of wall?), a toy piano, and a lurking white electric guitar. Sukie Smith follows with a really calm, measured and witty reading of a couple of poems, I particularly liked "We're all kunst at the end of the day", and great to be able to hear all the words and have time to take them in.
Once again the action centres around two fascinating video interpretations of Band of Holy Joy songs. In addition there's another noise and light burst from Inga, Peter and James. A tinkling keyboard yields eventually to a fog of treated bass and guitar, culminating in James molesting the bird cage with a hammer, to cool sonic effect.
The two films offer fascinating and far out interpretations of Holy Joy music, each very much of its own style but united in their playful and imaginative approach to the lyrics and music, Gil De Ray's film of "When Love Is Not Enough" takes us into swirlingly trippy Flaming Lips territory, as the screen is swallowed up in a mass of morphing and enticing lips, patterns, graffiti and faces merge and split and reconfigure. But there's nothing nostalgic or whimsical about the psychedelia on show here – Sgt Pepper's nowhere to be seen – more a celebration of energy and imagination. I'll certainly be looking out for Gil's next project, "Pathway To The Stars", a psychedelic road movie, no less.
The other film, Tam Dean Burn's "On Set Romance" has two beautifully stylised masks (Indian? Persian?) that look like something from an Arabian Nights take on Punch and Judy. Again, layers of sound and imagery – camouflage nets? Jet planes? – swirl and recede. Tam appears wearing a sinister looking hooked beak bird mask, standing enigmatically between the two original masks.
Finally the Outro leads us off into the night, random sounds and voices giving way to some poignant "Forever Changes" trumpet.
NOTES FROM A GALLERY 3
TALKIN' 'BOUT A REVOLUTION
The third film in the series is bookended with a solitary masked snare-drummer standing on a deserted beach, dubby fx washing in and out with the waves. After Johny Brown's opening words, we follow roughly the same format as the previous two nights, with a couple of films, the noise/light/pattern blast, interspersed with different interviews etc. These often refer back to – and illuminate – some aspects of the previous films. Thus we learn the background and significance of the house Johny emerges from with his knapsack, and the background story to the stickers.
The first film, Bjorn Hatesklog's "Notes From A Gallery" takes us deeper into the story of the gallery in its four year lifespan, roaming around and interspersing key moments and images, while a beautifully augmented (strings, brass & even a steel guitar) Band Themes of Holy Joy give their own "temporal impression" of their relationship to the place. of liminality are an important recurring theme in Bjorn's work.
Again, I feel I'm pushed to do the other film justice. Jo Joelson's film for "New Clear Vision" is set in a multi storey car park – a decidedly marginal space, normally packed with people and their vehicles, now empty – reflected in the wing mirror as the car makes its way up & round the different levels. Somehow it works, particularly as the circuit of each level gradually develops a kind of pulse, becoming like a secular mantra, the sun setting as the top level is finally reached.
I've loved the noise and light blasts, and this was another blast of modern psychedelia – gorgeous pulsing colours and images from Inga Tillere, while James spares the bird cage, instead unleashing cavernous sound shards from the white guitar.
There's also a terrific performance by David Erdos, reading his piece "Adrenaline for the Stars", a detailed response and celebration of the new Band of Holy Joy album, "Dreams Take Flight".  Both the words and the reading are really powerful, giving it a kind of epic/heroic quality– I've reviewed a few albums in my time, but never in verse!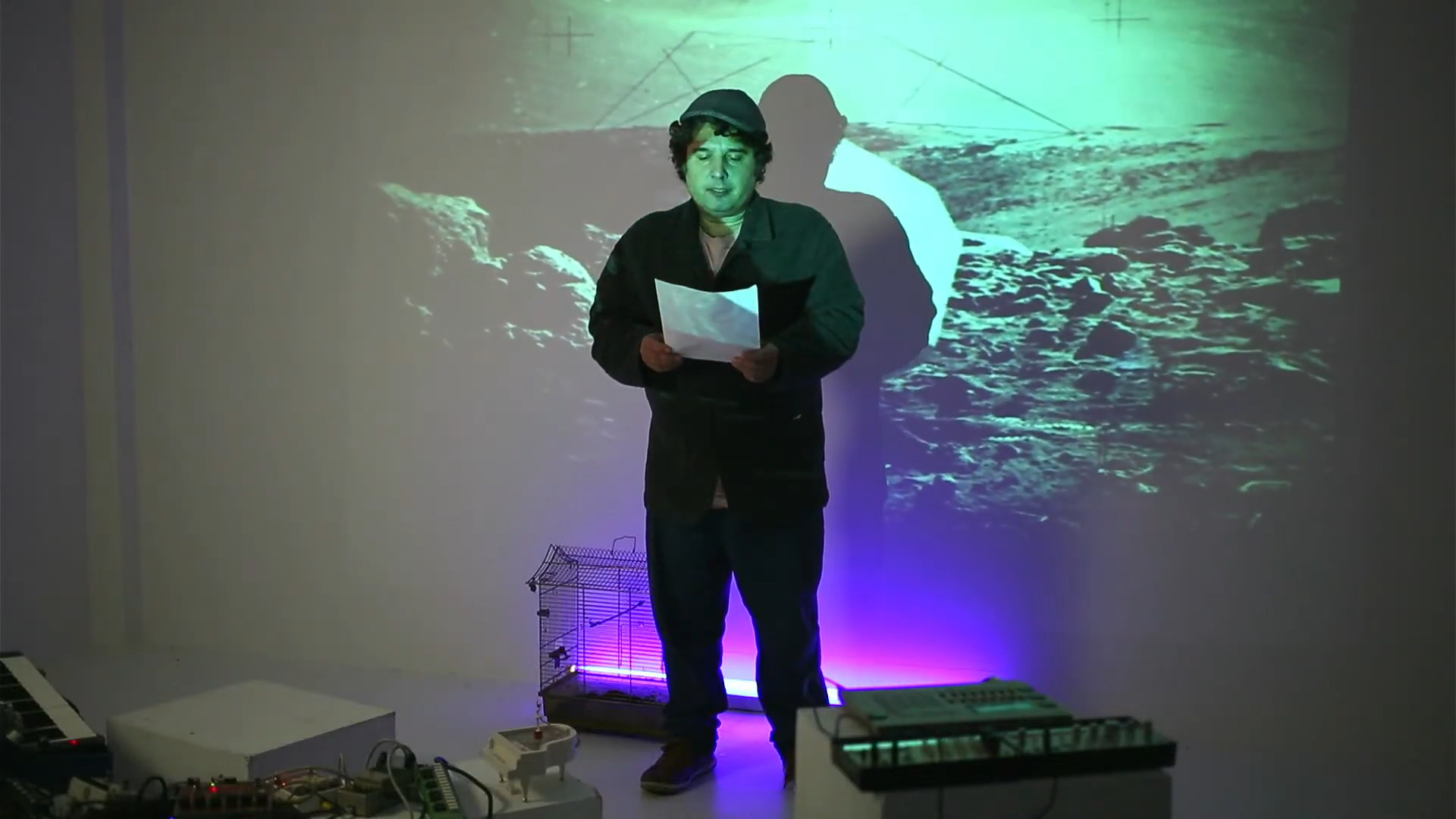 Finally the lone drummer on the beach is back, with added curlicues of synth wash this time.
NOTES FROM A GALLERY 4 = LIGHT & LOVE
ch a blast writing about the Band of Holy Joy's "Notes from a Gallery" project that I'm emboldened to share a couple of my responses to the situation, or rather, my subconscious' response. This was from very early on, probably April last year…
Holy Joy and Holy Madness
APRIL 2020/ Lockdown Dream 1
"Sometimes dreams can be very far out, and, well – surreal, but I find the strangest ones are where everything feels real, without any giveaway clues. On this particular morning, my mind constructed a perfect replica of me waking up in bed, and turning on on the news.
A voice calmly states, "We regret to announce that our earlier statement was inaccurate. It has come to our attention that the entire population has been infected. We are all going to die."
Still in the dream I sit up and pull back the curtain to look outside. There's a weird radiance to the light, and as my eyes attune, I see the air is crackling with little crystalline balls, popping, merging and reshaping. There's actually a strange beauty to it."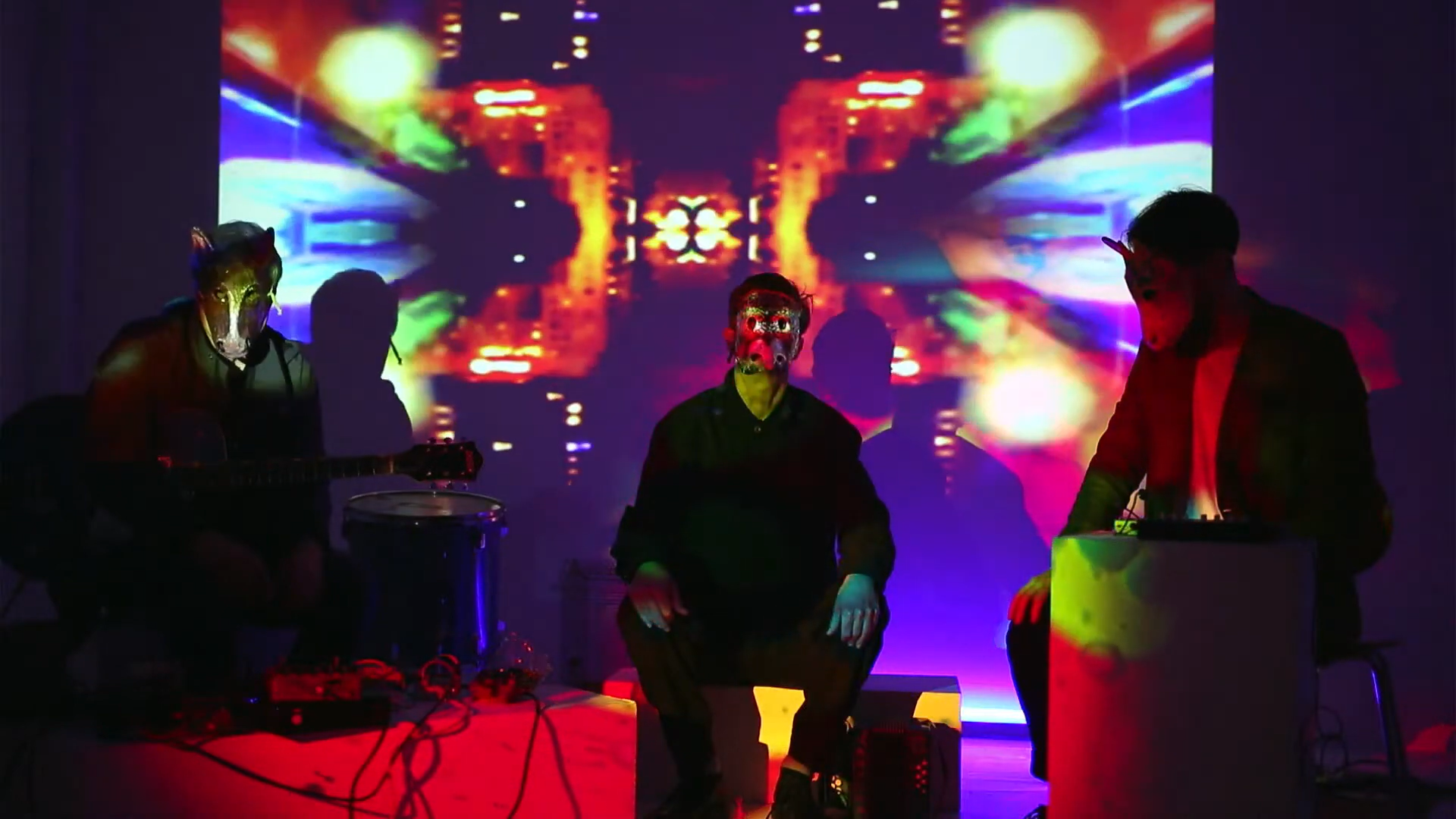 And so we came to the final climactic coming together of the "Notes from a Gallery" project, where dreams did indeed take flight. My original purpose writing these reviews/responses over the 4 days was to provide an instant reaction, and try to catch the momentum as one day and performance led into another. This simply wasn't possible with Night 4, where I really needed several viewings before I felt I could do justice to the work there.
We start by joining Johny on a last walk round the gallery. It's the first indication that much of Notes 4 is like trying to complete a jigsaw, as connections become evident, or something random suddenly starts to make sense. Thus, after checking out the radio, Polaroid and sticker rooms (where we finally get a close up of the stickers), we get to the mask room: here are the Latvian pagan masks that shapeshift in and out of the night's adventure. There too are the masks from Tam Dean Burn's film, the male Nepalese, and the female from Japanese Noh theatre.
Meanwhile Bjorn and Peter manoeuvre equipment into place to create the Palace Of Light for later.
There's a theme running through the night's proceedings, adapting the imagery of 60's psychedelia to connect to more ancient transcendence, the world of trance and chant and shamanic flight.. Thus Johnny Mugwump's film for "Take a Leap into the Great Unknown" is a delightful blend of swirling trippy imagery intercut, as waves, starbursts, Busby Berkeley babes give way to monochrome supermarkets festooned with old school Situationist slogans like "Stay Asleep" backdropping the mindless mechanical consumption. It's a contrast that emphasizes Johnny's statement that with the Band of Holy Joy, "Heart soul and passion win every time"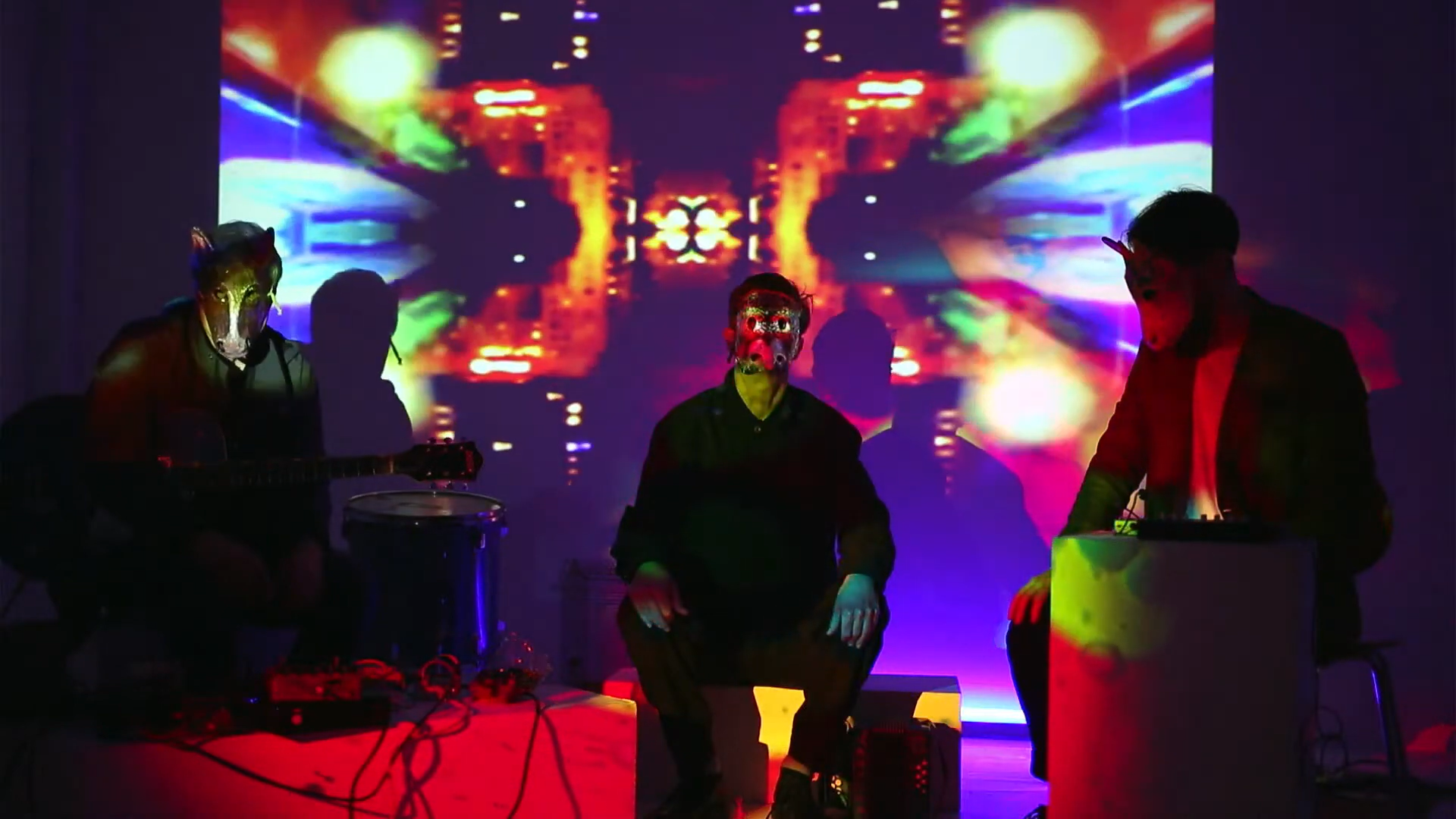 Inga Tillere's film to "That Magic Thing" leads us further into the unknown. We move to the heart of the night's action and the culmination of the momentum built up over the previous nights, as the Latvian masks reappear, with their hints of "The Wicker Man". Punchy horns blend with cascades of psychomagical images, like a kind of contact high, or the flickering images in the corner of your eye on a trip. The closing choruses of "Love is a healing force" set up the final energy blast of the night.
We're in the Palace of Lights, a darkened space with flickering back projections. Three figures are hunched over their instruments and magical devices. A piano tinkles, or is it falling rain? Johny plays some Pablo-esque melodica alongside Peter & James' shimmering pulsing guitars, the jigsaw's changing shape again.
Now we're back in pagan mask territory, and the feeling becomes more ceremonial/invocational. The little white piano is in place, and Johny carefully places small figures (toy soldiers?) on it, before casting echoing rune-like pebbles to the floor. Or are they offerings? All the while Inga Tillere's multi-layered projections intensify the spell – clouds, forests, trains, a proper 60s style oil-wheel psychedelic lightshow blend together. 
After a while Johny starts to sing the central "Dreams Take Flight" theme, gradually getting faster, the music becomes more abstract and discordant with strident FX on the guitars. Now the birdcage reappears, but this time Johny's using it as a percussion instrument, battering and scraping the wires of the cage, before leading into a militant staccato rhythm, now it's time to "let the dreams fly". There's a great blend between something that's clearly been carefully thought out – the themes, links, and references – but can still respond emotionally to any new direction and feels like a massively intense improv.
As the song goes on, with Johny chanting the central "Dreams take flight" mantra, there's a distinctly shamanic feeling to proceedings. We've all had that experience where you repeat a word – out loud or in your head – so that at first it becomes clearer, then loses meaning before turning to pure sound-
Meaningless
Meaning less
Meaninglessmeaningless
Mee'ninglous
Again, there's a real feeling of the eternal trickster/prankster at work, as the music shifts once again, with a rapidly quickening accordion beat leading into the final climactic meltdown, where "Dreams Take Flight in Human Ruins/ On a Full Moon/Always looking for light!"
It's an amazing culmination to the four day creation, but it would feel too intense if left there. In a final moving coda, we take a last wander round Gallery 46, and then we're back on the street again, knapsack and all. There's a suitably haunting – but also exhilarating – feel to this last walk. There's a subtle beauty to the samples, sounds and bleeps mixed with 1950's like instructions on how to wear a mask. The music soars as Johny walks past a parked Covid Swabbing Truck, and I get a huge lump in my throat. There's a final triumphant optimism as the music ascends in all its tattered beauty and Johny emerges on to the Caledonian Road. 
Life goes on, but it's a new world, if only we can learn how to make sense of the absurd and the unknown. Evolve beyond the old strictures and structures. This fabulous series of films shows us the way forward, through love, togetherness and creativity and leaving behind greed, waste and consumer culture.
 JANUARY 2021
Going Underground
Maybe not as hyper-realistic as the previous dream, this was more like watching a television documentary play out in my mind.
"It turned out that Covid 19 was only the beginning. So many other plagues and illnesses came that outside became a very dangerous place. 
I'm looking down at what looks like muddy fields, or post fly-tipping countryside. Gradually I make out tube-like plastic and polythene structures meandering across the ground, sometimes joining up to larger more solid structures.
Now I'm down at ground level. The place has the feeling of a rundown allotment surrounded by encroaching rubbish dumps. Everyone makes their own little tunnel in order to get from their shelter to the bigger structure leading to the marketplace.
It's been like this so long now, that we wouldn't know it, even if it was safe to go out.
This is the future