I don't know when or where I first met Martin Stephenson but I do know that I had the good fortune to be in the band that gave him his first gig. Martins musical career took off with a series of fine albums released on The Kitchenware label. There were nationwide tours, TV appearances, trips to America and a major record deal on the horizon. Martin however took a different route, choosing instead to step away from that and retreat to the Highlands of Scotland to start life anew. Eventually he was back on the road again but this time on his own terms, playing what he wanted to play, where and when it was right for him and he hasn't stopped since. During lockdown his live streamed gigs from his home attracted a steady audience from around the world. He's also just released a new album Pink Tank and is currently back in the studio. This seemed like a good time for an interview.
D St : Hi Martin, let's begin with Covid 19 and the global pandemic, obviously this has brought about a lot of changes to people's lives, some coping better than others. How have things been for you?
Martin: Both tough and inspiring. Tough in the sense I've had no support from the government as I am the director of a limited company so I don't qualify for any kind of grant, all they are offering me is a low percentage loan which I do not want. Furlough is a no no as I would've had to cease trading online which would be insane for me, I've cancelled 12 months' worth of shows to support the NHS, not the government who have done nothing to help me, I have used most of my savings to survive and bankroll projects.
The positive has been online performances, if not for that and a couple of close pals who help run my twitter and band camp I would be finished by now, it's been totally in the balance.
My nature is to be independent which I have been since I started busking at 17 but at the age of 59, and a tax payer all my life who hasn't taken a penny from the state, I feel totally let down by the fukas………………………….. Moan over, I have been highly creative during this lockdown and produced quite a few artists with no charge, I have walked a lot too.
D St: What were your plans prior to the pandemic
Martin: I had concerts all throughout the year and a national tour promoting Salutation Road 30th Anniversary, but all are cancelled till at least March 2021, I cannot survive any farther than that so I will have to come up with some survivalist plan after that?
D St: Youve been streaming live gigs from your home almost every Friday and Saturday. How many have you done and how has the format of the tip jar (whereby people put money into an online tip jar) worked out?
Martin: Every two weeks I play both Friday and Saturday evening @ 9pm for an hour or so, but I feel every two weeks is enough. It's unfair to play every week in my opinion, it's a trifle greedy, just my opinion though.
D St: Improvising and sharing stories are very much part of who you are. One thing I've noticed with streaming is that although you can't see your audience, you can see their names and comments and respond in the present moment ,which has become a new way of engaging with an audience. What have you enjoyed most about this?
Martin: Exactly that, it gives a bunch of folks who are scattered globally some time to hang together, from someone who lives in my local village who I don't actually see that often to someone in Australia or America, the unity is fantastic, some folks who've never seen me live have now been to 10 or 11 shows, it's global microcosmic if there be such a term?
D St: I felt that an important part of your streamed gigs has been the presence of Anna, steering the ship as you say, reading out messages and singing alongside you. How important has been Anna's contribution to your sessions.
Martin: Anna's presence is awesome, she is such a lovely supportive, funny, caring soul, I am so lucky to be graced by Anna, her experience is huge, she started off with Marti Caine in the late 70's, Marti loved Anna and wanted her to move to South Africa with her but Anna wasn't into the political climate back then, she then worked closely with Rick Mayall for a couple of years touring the Young Ones before it was screened for tv, Anna and Rick were great pals, she speaks very highly of him when probed, as she's not one to boast, she also did a little theatre with Tilda Swinton when they were young and after studying at Stirling University, she ran off and joined Lindsay Kemp's crazy travelling theatre, they remained close pals up to his sad passing a couple of years back, so sitting behind me for Anna is like a walk in the park, but her experience is a huge asset, she's got my back for sure, a great lass.
Anna contributes to both gigs and sessions, she is my tour manager when on the road, she also acts as a stage manager too
She also does sessions as she has done quite a lot of vocals with me, and close to her heart is writing lyrics, we have written some lovely songs together over the past 4 years, it's wonderful to be able to share this.
D St: One of the consequences of the pandemic has been that events continue to be up in the air. There's a lot of uncertainty as to when venues will re-open . What plans do you have music wise?
Martin: In all honesty, I have no idea, it feels like I may never perform live again, funnily enough I'm starting to get used to not travelling and feel anxious about the whole thing coming back, I never thought I'd feel that way, but I'm 59 and have been performing more or less since I was 17
D St: Over the years you have worked alongside some incredible musicians including Etta Baker what was that like?
Martin: An angel, a loving presence, I remember trying to learn her rags when I was 17, slow country blues picking, then one day in 2000 I find myself in her little home picking guitars together, she was playing the very guitar I first saw of her taken in the 1950's, a Gibson Les Paul Junior, it was like being with your gran, she was so beautiful, we put our hands together as pickers across the pond, I'll send you a little booklet with the picture in, I loved her, but so did everyone inc Taj Mahal
D St: As well as playing alongside Etta Baker you've also worked with Lenny Kaye, Billy Connolly and Virginia Astley. That's quite a diverse range ….
Martin: Ain't the universe an amazing artist, four beautiful soul sculptures there, Etta, Lenny & Billy
My friend Stephen Corrigan, (14 at the time) caught Lenny's plectrum at the Newcastle City Hall in 1978 and gave it to me for taking him to the concert, I kept it in my special box and in 82 bumped into Lenny in Hyde Park, we were both staying at The Columbia Hotel, I was back and forth to Newcastle so brought the plectrum with me when I returned to London and handed it to him, he laughed so loud, in a nice way, but to me it was huge, it was like meeting Jesus, then we kept crossing path so on my last major album 'The Boys Heart' I asked to bring Lenny over from New York to the Toon, 1991, Keegan was the Toon's manager, it was magic, I took Lenny to the match and showed him where my Grandfather died on the spot outside the turnstile, he later wrote a song "The sport of love will score you nil, and lead you through he turnstile, spread my ashes on the pitch, I'm a god damn son of a bitch" xx
Billy was so lovely, me and Anna shed a tear when he left my tiny place, he was so fukin lovely man, he hung around laughing and listening to the crews stories, looking at old photos of me Da, his producer said it was unusual him hanging around so long but he must've felt comfortable, I was totally honoured and he had 4 of my kit kats the bugger.
Billy is super special, why he came to see me I will never know, but that's what makes him the man he is, he has time for the little guys xx
Virginia is a dear dear pal of mine, one of the nicest folks you could ever meet, a total English eccentric who truly loved her Dad, the great Ted Astley, a great poet is Gini and songwriter/lyricist, pianist and flautist, she went out with Pete Defreitis Echo & The Bunnymen drummer on the 1st 5 albums ) when they were young, it broke her heart when he passed, I've loved Gini since I was 21 years old, she's family to me.
D St: You've just had a new album out Pink Tank …can you write something about this tracks , when or where it was recorded, whose been involved and so forth?
Martin: Yes, it originally materialised in 2003 entitled Airdrie, I got involved with someone I shouldn't have, and it went wrong.
So I disconnected from the project which was a very decent recording and decided to keep my songs clean, the other party released it but I wanted nothing to do with it, the energy was made toxic through bad feeling which I tried to repair but the other party chose bitterness and bad feeling, you have to leave should too it when they choose that path, of course they blame everyone else and that's a curse in itself
So recently I found a wee toy corgi tank washed up on the beach whilst walking with Anna, I picked it up and told her I was gonna paint it pink and release my songs from Airdrie in the light, the pink tank represents the futility of bitterness and power consciousness on every level from micro to macro. The songs carry a lot of love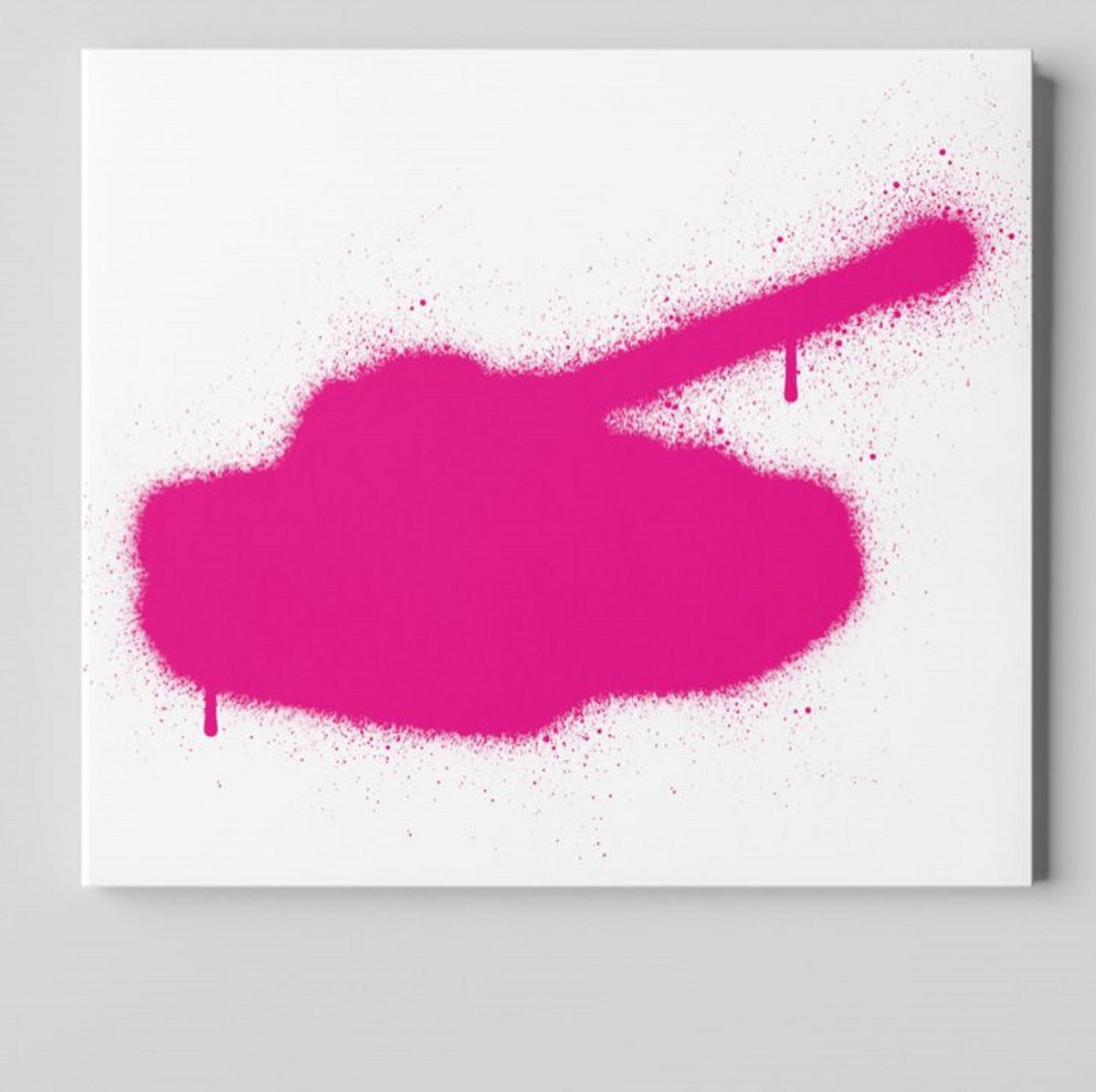 D St: Your also back in the studio, recording new songs. ….. and you've never been afraid to rework songs that you've previously recorded, do you think songs have a kind of life of their own. You bring them to light and then they evolve?
Martin: Yes they come as pictures and ignition, if you've done it long enough you kinda know what to do, if I was an artist they'd be paintings, the option is there right from the beginning, I happened to stumble into songs, the power of song fascinates me, each song is like a dove, if you listen to them when you are channelling them, they are the easiest things to write, you become merely a secretary in service to the song, through heart and crown chakra, they manifest through you, it's an honour to try share the creative force to the best of our ability, and being ex punks we've had to work at that.
D St: Back in the 80s you and The Dainties were on TV and also in America with major record deals on the horizon. Did this feel like success or was it something else?
Martin: There was a honeymoon period between 82 and 85 when Kitchenware was in it's infancy, The Daintees, Hurrah and the Sprouts were mates and we had a wee HQ on Clayton Street, we were all skint and so excited about life and art, that's the happiest I ever was, I felt I'd found a new family but once the majors got involved it was serious business, nobody to blame but the light left, I felt a spiritual death beginning in me I could not explain, as from the outside it looked like we were beginning to achieve our goals, but the more successful things became for each artist, the more separate and egocentric things appeared, I started felling sick inside and by 1992 I was suicidal, I folded the Daintees and walked away from it all, things got real bad, my marriage went down and I ended up sleeping on folks floors in Scotland, the only thing I got right was giving the wee house I bought to my ex-wife and girls, but after a few years I began to write and perform again, I recovered spiritually and started working the microcosm
D St:
Back in the 80s, every major city or region in the UK had a variation of its own scene going on. In the North east there was the Kitchenware record label which also included Prefab Sprout. Did you ever get to work or gig with each other?
Martin: Yes, many times, we toured twice with the Sprouts and even more with Hurrah, I am still close pals with Paul & Taff from Hurrah, they are great folks, so are the Sprouts, very eccentric but lovely people.
D ST: You grew upon Washington, which was also the birthplace of Bryan Ferry. Whist he has distanced himself from his hometown, you've chosen to embrace where you've come from.
Martin: I think Bryan was kinda launched off though his remarkable sense of art and his talent, but I think he was good to his parents and always came back to Washington, he is well loved there still. I was never a massive Roxy fan but I love Bryan even though I've never met him, I think he is a unique talent, I recently gave his mum a namecheck in the song 'Brady Square'  Polly Ferry
I love my hometown though feel a little like a ghost when I return, I pass my Mum & Dad's old house, they are both departed, I have so many happy memories there, it makes me cry when I think of them. But I do return every year to do a wee concert in the garden of George Washington's Old Hall, for the last 5 years until the lockdown that is, 200 folks sitting in the garden, old pals from school all mixing and laughing, it's a lovely feeling to share that.
D St: Maybe you might end up working with each other.
Martin: I doubt it ha ha, but I did think of a video where Bryan goes pheasant shooting at Lambton Estate and a giant Pheasant comes out of the bushes with a 12 bore and starts chasing him! (laughs) Then I take him to Jimmy Chadwicks for his first haircut. .
D St: Washington had it's own micro music scene, at the time people in local bands were into to likes of The Residents,  Pere Ubu  and Red Crayola .. bands which would later become cool cultural icons. Ahead of the curve then?
Martin: Absolutely, I used to write to Mayo Thompson (Pere Ubu) when I was 16, he always wrote back, it was amazing as I didn't know where Syd Barret was, him and Peter Green were my heroes too, but there were others all local such as Tim Reed,  John Evans , Chris Mordey and Steve Minto. They were all my heroes, my elders, my inspiration, God bless Punk, and the Pistols and the Clash, The Ramones, Television, Richard Hell, Patti Smith, how blessed we were, God bless Paul Thompson, Tommy Watson and my cousin Jamie.
D St: Finally 3 records that you would recommend people to listen to?
Martin: Anything with Peter Green playing guitar on it
Anything to do with the great Syd Barrett
Any punk record, god bless Pauline Murray, Polystyrene, Pete Wylie and The MP's ( The band that give Martin his first gig)))
Thanks  Martin x
Martins records are available via https://daintees.bandcamp.com/