Ruby Ray
Right place right time. Photographer Ruby Ray captured the emerging  punk scene of  San Francisco, home of The Beats and California Cool.
 Her 1st assignment was with the legendary zine Search & Destroy photographing The Dils at the Mabuhay .  Capturing the spontaneity and intensity of the moment, she went on to photograph the likes of Devo, The Dead Kennedys and The Cramps
Ever the autodictat she has carved out her own creative path, from Kalifornia Kool to The Royal Terrestial Garden of fractal delights . Deviation Street managed to catch up and  interview her .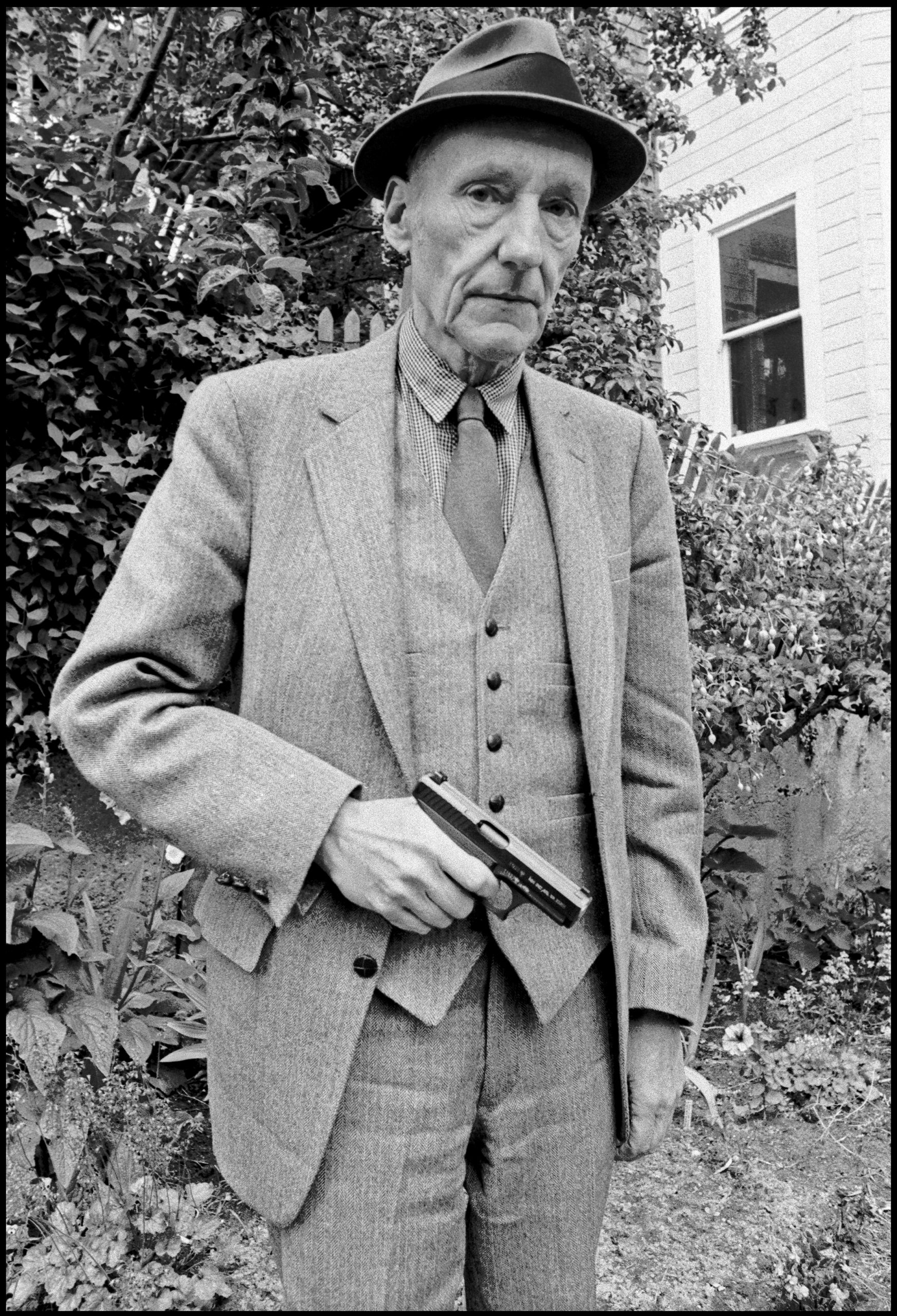 In the garden with William S Burroughs
D. St:  The very recent passing of Lawrence Ferlinghetti aged 101 must be very significant for you and friends in San Francisco right now.  My understanding is that he and Ginsberg provided the funding for Search & Destroy. In the UK  a lot of  Rock bands who made it big in the 60's and 70's  disapproved of punk music. How important were counter culture  figures such as Ferlinghetti and Ginsberg during the emergence of a punk scene?
Ruby: Yes, it's true that they both gave Vale $100 to start S&D. We did connect with them as fellow rebels because of their boldness and free speech.   Keep in mind, many of the Beat poets were still wandering North Beach, like Ferlinghetti (who you could see at the Trieste Cafe), Gregory Corso, Jack Micheline, and Bob Kaufman. But the SF rock musicians of that era completely ignored punk, as though it didn't exist. They hoped we would go away.  Didn't matter, we were on our own trajectory.  Which all turned out to be advantageous – little negative influence from outside for a short  while.
Jon Savage
Search & Destroy contributor
San Francisco
1979
Ruby: You photographed Burroughs, how did that come about ?
I already had the borrowed (legal) guns I used in another photo series I took for Last Gasp's Anarchy Comics, which showed George Washington as a punk… supposedly the first comic book with a photo cover (1979)!   RE/Search edition 4/5 was all about Burroughs, so Vale asked me to take the cover photo.  There was an afternoon gay brunch in the Castro district and Vale was interviewing Bill.  When it came time to take the picture, I asked him to come down to the garden. I liked the juxtaposition of the gun against the flowers. It was all very quick and casual – 10 minutes.  Burroughs was very gracious, but I was nervous!  I was using a wide-angle lens -28mm- and needed to stand very close to him – a little intimidating!
D St: What was it that got you into photography in the 1st place , were there specific photographers that you admired . ?   and how did working for Search and Destroy come about.
Ruby  R:  Friends leaving town secretly left me their camera in 1974, there was some behind the scenes wrangling from my boyfriend about this.  I learned to develop film and print photos at a community centre next door to my apartment.  I was new to San Francisco… so I would wander around North Beach and the Wharf looking for "surrealist" photos with long shadows… I was very influenced by Man Ray, surrealists, the symbolists from the Victorian era, and my metaphysical pursuits. Henry Miller's books represented artistic freedom to me.  I scoured art books to discover what made art -genius and tried to integrate it into my photos.  I had a mentally rebellious, autodidact personality – not much has changed.  I've dropped out of 3 colleges.  I was working at Tower Records in 1977 when (S&D editor) Vale came into the store with a stack of magazines under his arm.  I saw him and literally ran after him to see what it was!!   He showed me the first issue of S&D and I was impressed but asked him if he didn't need more photographs! He asked if I knew any photographers!  About a week later, I had my first photo session with the Dils and saw them that night at the Mabuhay, my first California punk band.  I felt I had found my people and there was no turning back!
D St: You say that photographing Burroughs was a "little intimidating" That was in a garden. Quite a contrast from photographing The Dils or The Dead Kennedys at the Mabuhay, where it looked pretty raucous and very different from the standard rock gig. What was it like being right in there with audience, trying to focus (literally) on getting pictures of those bands?
  Ruby R; #1 I wanted to have fun  #2  I didn't want to stand out as a photographer because I was looking for something unposed, I had to be alert. #3 I was looking for the great shot.  I usually had only one roll a film – all I could afford. I picked my spot at the stage for the best composition. It was a simple set up – Tri-x film, a flash, and a wide angle lens, get something in the picture both close up and farther away..  I had to set my focus ahead of time for the distance, so when the picture came, I could catch it, even if I didn't look through the lens!! I had a little sheet of paper with my times and fstops so I wouldn't forget -lol.  When I knew I got the shot I was ecstatic and didn't stop dancing!
D St:  There is a photograph that you took of The Dils with the Kinman brothers in the foreground, the drummer is obscured by his kit but his shadow is clearly seen against the brick wall at back of the stage, its a great image . As a process did you have a pre conceived idea of what you were trying to capture or were you spontaneously responding to the  what was happening in moment or was in a mix of the two?
R R: A mix -I'm always looking for truth to be revealed.  I was photographing for either the punk zine Search and Destroy, or RE/Search, so that was my priority. My goal was to get the great picture of the band that would hopefully be in the next issue!! And even if it sounds corny, to express my love of the punk rebellion!
D St: Do you have a personal favourite image of yours from that period ? 
 R R: The one with my friends Sue and Sally of the mutants in the city junk yard, exploring what could only be called a dystopian fantasy. It was basically an unposed photo, we were wandering at dusk with a group of about 20 people and the sky was darkening…Sue was spinning a hula hoop she had just found and Sally was standing there looking stunning as usual.  I shouted don't move and jumped to the mound above them to shoot. Just one of those moments…
 I shouted "Don't move !" and jumped to the mound above them to shoot.
Just one of those moments…
I loved finding dystopian and industrial landscapes as symbolic fodder for photo shoots.  For the 1980 Summer Solstice, I worked with 6 other women artists and punks to put on the Debu-Taunt Ball. The spot we chose after driving around San Francisco looking for places, was  a vacant industrial lot near the Railway yard, under a freeway with an inky creek next to it. My participation was to commission the music and create a walkway along the creek for the debutaunts to be presented to society, all done with colored chalk and flaming toilet paper rolls on top of tall sticks stuck in the mud! It was all very epic, we gave out a map since no one would find it. …
The police came eventually (with dogs) when they saw our bonfire!  They asked who was in charge, and I didn't see any of the crew, so I took the blame and promised we were just about to leave!  So the bonfire was doused and we made a quick getaway without trouble!!!  Everyone had come dressed to the max – A post-punk happening. Factrix create the droning industrial  soundtrack that was broadcast from speakers rigged up under freeway girders!  Some of that music is on one one of their LPS.
D St: An earlier band from San Franciso  were The Tubes who had released "White Punks On Dope " in 1975  and were very theatrical in their performances and not your standard rock band. Were they influential to what was going on at the time?
R R: I saw them early on and thought they were fantastic and outrageous.  But we didn't consider them exactly punk and I think they were a little miffed at punk because we stole some of their thunder.  Great band though…. I loved Re Styles (singer) because she played a sexy part in Jodorowsky's Holy Mountain, an extremely influential film to me.  I somehow saw it in Toronto before it was released ('72). The film completely shocked and enthralled me with it's mystic and surreal relevance!
I had never seen anything like that before,  kind of like when I first heard the Sex Pistols – wow that's it!
D St: By the early 80s your images were moving away from the crowed  intimacy of small punk venues and enclosed city spaces to lone figures in empty open landscapes (Avenging Angel) . Were you aware  of a change within your work?
 R R: Oh sure, I didn't want to keep repeating myself, and as time passed, more and more photographers showed up to shoot the bands, so I started taking bands to locations for the pictures. My work was developing and I  had  major aspirations!  I started to do projection shows with the band Factrix and became an image maker for them.  When I moved to NYC in '82, more photo projections shows and image making followed with the band Saqqara Dogs, and my print photography became more symbolic.  The indirect message is very appealing.   I have several other bodies of photography that are not punk! I was greatly influenced by my trip to London and Egypt in 1978.  My first photo show in San Francisco was hand painted infra red photographs of Egypt!  I was a busy girl.
I have several other bodies of photography that are not punk!
From the Saqqara Dogs video Greenwich Meantime 
D St: Putting together projection shows for Factrix must have been different from documenting gigs . Sonically experimental they were  pioneers of what Julian Cope has described as Gothadelic. Interestingly, they also incorporated  permutation loops, one which used of the  voice of Brion Gyson  creator of the cut up and a close friend of William  Burroughs who you photographed,  which  is a kind of a loop in itself .
R R: It was a challenging experience because Factrix pushed me out of my comfort zone, which I liked..The images needed to align with the music. We did some theatrical things like projecting on venetian blinds. The audience reaction could be mixed! One show with machine master Mark Pauline involved drilling the teeth of a goat's head that was pulled across the performance space.. A local artist picked up a chair to smash it shouting it wasn't poetic enough! Pretty dark humour-  Punk blew everything wide open….
D St: Your own photographic book Kalifornia Kool 1976 -1982 was published in  2019 how did that come about what was the experience like?  
 R R: I had previously spent years scanning and touching up all my negatives so I was prepared on that end.  Carl from Trapart Press was very easy to work with and very organized.  He knew what he wanted and I was in agreement!  I sent him my best 250 pictures and he narrowed it down. This was my second book, my first punk book From the Edge came out in 2013 and is out of print.  Kalifornia Kool has a lot more pictures.  I always fret the most about the dating of any image!  I didn't date most of my contact sheets.  And there are fanatics who know the dates of every show!!
Search & Destroy editor V Vale 
Cold Sun visionary  Billy Miller 
The Zeros on stage with The Dils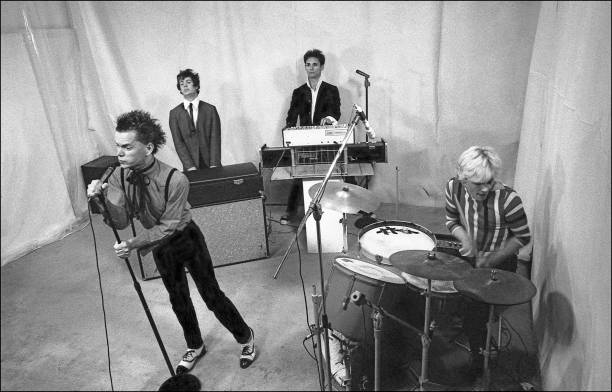 The Screamers video recording of Vertigo (Version 1)
D St: Earlier you mentioned  that your work had become more symbolic around the time you were working with Saqqara Dogs. This was  a time when the  image making technology of the day was changing  too , Do you think that the changing technology gave you the tools to develop your creative output in different ways and explore new avenues ?
R R: I don't think the technology was changing much at that time – mid 80's.  I was using film and infra red slides, slide projectors with dissolves on timers, spinning wheels with various filters, etc.  Fairly low tech in a way! I had several trays of slides to change throughout the show – everything was done live. I found the first slides of fractals ever made and used those.  I never had the perfect space to set up my rig in the clubs, so sometimes it was a little shaky!  We had one incredible show at Walker Art Center with the projections on a huge movie screen behind the band, that was our best presentation.  I think between the music and the images we really created an intense experience, some called it orgasmic!  lol
D St: Your current creative output centres around  fractal art , which is often associated with  the infinite  and with Science Fiction. Are you a big Sci Fi reader ?
R R: Not really! But I have wide ranging interests including interplanetary space travel, altered consciousness, psychic travel and also science futurism.  My interest in Fractal art comes from a place of wanting to try to create an objective art.  It's more of a philosophical interest.   I suppose you could say it was inspired by Lovecraft or P K Dick or one of my favourites,  A Voyage to Arcturus by the Scottish writer David Lindsay,
 D St: Do you have a book of your Fractal Art in the pipeline ? 
 R R: Not yet, but other secret projects in the works!
The Terrestial Royal Garden 
D St: Finally it seems like the world has changed so much since 2019 . However  looking at some of your recent work such as  Terrestrial Royal Garden  there is a sense of  timelessness . A   contemporary narrative for Dante's vision of an Earthly Paradise ?
R R: Perfectly put. Et in Arcadia ego!
Many thanks Ruby
You can follow Ruby on Instgram via https://www.instagram.com/rubyray.artist/
All images © Ruby Ray